So...not a huge fan of the idea of a formal, sit-down rehearsal dinner.
Kind of reminds me of the last supper in a strange way...
So, fiance and I have decided to instead host a 'Meet-and-Greet' or 'Mixer,' if you will, for everyone involved in our bridal party and for our out-of-town guests the evening before the wedding.
Now, the more I think about this, the more it seems like a great opportunity to entertain and show our guests a great time in the city before the wedding. A chance to relax and greet our guests on a one-on-one basis before our wedding day.
So, this mini-soiree--which will ideally be a wine/cocktails+light appetizers+music affair--is set for a Friday evening before our Saturday evening wedding. Because our venue--and the rehearsal--are downtown we will have the meet-and-greet downtown, too. And there are so many options...
Option 1:D'Vine Wine Bar
Location: W. St. Clair Avenue, downtown Cleveland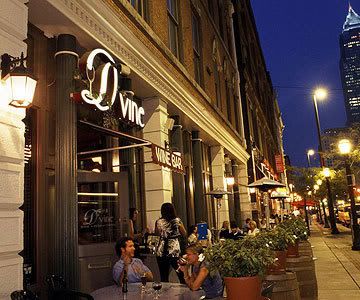 Details:
No room rental fee
In-house food
Fiance's favorite
Can order bottles of wine and appetizers. Charged by bottle. Not sure about any music. Small outdoor 'patio' area and cigar room. This is also where fiance took me to share a bottle of wine after he proposed=sentimental value!
Option 2:
Anatomy Ultra Lounge
Location: West 9th Street, downtown
A hip, trendy two level lounge in heart of Warehouse club district
Details:
Small outside patio in first level and small rooftop area
Room rental fee--kinda pricey
Charge per cocktail or glass of wine
Can bring in outside caterer, but no in-house food
Music! Either streaming satellite of whatever you choose or you can hire a DJ for about $200...
Option 3:
Vivo
Location: Euclid Avenue, downtown
Very cool, cozy restaurant and lounge
Details:
Short walking distance from hotel and rehearsal/wedding venue
Two levels--restaurant upstairs and loungey area down
Very good food
V-Lounge downstairs is intimate
Unsure about rental fees etc. right now
Option 4:
Jac's
West 6th Street, downtown
Restaurant and lounge with private area
Details:
Mixed reviews of place and customer service
Unsure about pricing and rental fee(s)
Outside patio
Option 5:
Zocalo
East 4th Street, downtown
A Mexican grill and...Tequileria!! Great, vibrant atmosphere.
Details:
New addition to up and coming E. 4th Street dining area
Short walking distance from rehearsal/ wedding venue
Mixed reviews on food and service
Patio
Crazy, crazy tequila menu= bad drunkeness potential
Not sure about private party policies...
So, what do you think?